Podcast: Play in new window | Download
Subscribe: RSS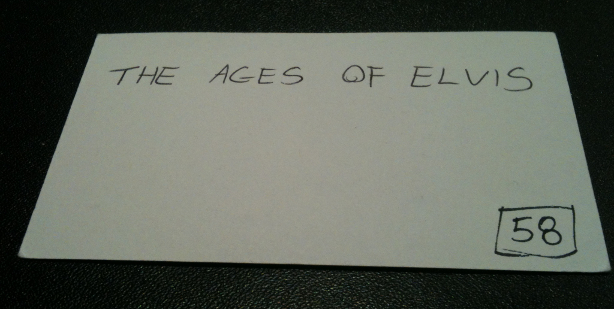 What threat could be so terrible that it requires a team-up of multiple possible versions of Elvis, and will they release a soundtrack album when it's dealt to?
Don't you step in that blue suede sector; Elvis-themed Paranoia
Can anyone truly say who an Elvis Impersonator is?
Will wrote in with some suggestions;
A zoo management games makes "Snake Style vs. Monkey Style" an issue of branding, marketing, giving the visitors the best experience, and given that it's a competitive situation, probably some sabotage along the way.
Never mind the market for Soylent Bubba, what's at stake here is the removal of defenceless cows from the Fast-Foodchain. and their replacement with cruelty-free soyburgers; Thus the Great SoyCow Heist begins.
Eternal Champion
Michael Moorcock
Hollywood Blacklist
Senator Joseph McCarthy
Guardians of the Galaxy (Movie)
Six-String Samurai
Mad Max: Fury Road
Immortan Joe
3000 Miles to Graceland
Hudson Hawk
Elvis – 1968 TV Program, also known as the '68 Comeback Special
Snake Style vs. Monkey Style (Episode)
CrimeWorld, by John Rogers, in Fate Worlds Volume Two: Worlds in Shadow