Podcast: Play in new window | Download
Subscribe: RSS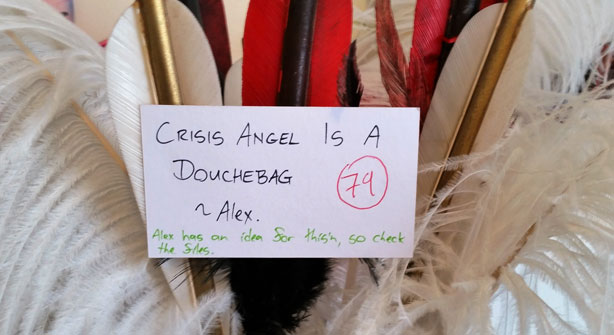 Some people can keep their head in a crisis. But if it means that everyone else loses theirs, it's probably best not to get them involved.
Stage magicians duel in the darkness behind the curtain, working to defeat frauds,  cultists, and sinister magical threats.
Crisis Angel to the rescue!  BTW, you're coming with her.  Now.  Ready or not.
When their ward is driven to acts of horrible revenge, what's a guardian angel to do?  Roll up their sleeves and pitch in?
There's one every group of friends, right?  The high-maintenance, disaster magnet?  What happens when your group of friends wields incomprehensible cosmic power?
And from Mamading, the listener who tipped us off to the RSS going down, these ideas for our "Kansas is Vibrating" episode.
Following a underhanded preemptive strike (consisting of an upbeat teenager and her small dog) the inhabitants of OZ strike back at the realm that wronged them.
Kansas has been propelled into a hostile dimension, it's citizens changing and gaining abilities that, if used wisely, but even see them through the peril ahead.
Some fiend has stolen the Sunflower state!  Battle hardened metahumans gather recover Kansas, and bring the thief to justice!
TV – Angel / Angelus – Buffy the Vampire Slayer  and Angel
TV – Preacher
RPG – Fiasco
TV – Bojack Horseman
TV – Supernatural – Season 4 Episode 12 "Criss Angel is a Douchbag"
Criss Angel  – His clash with Yuri Geller
TV – Steven Universe
Luxor Hotel AKA "Space Egypt"
Podcast – The Black Tapes
Comics – Global Frequency
RPG – Risus  "The Anything RPG"
RPG – QAGS
Novel – The Wonderful Wizard of OZ
RPG – Atomic Highway
RPG – Mutant Future
RPG Supplement – The Metamorphica  from Red Box Vancouver
Comics – The Authority
The lightly mad interpretations of The Wizard of OZ as political allegory.
TV – Rick and Morty
Novels – The Deathworld Trilogy by Harry Harrison
RPG – Bulletproof Blues by Kalos Comics
Rob Dougan – Clubbed to Death
RPG – Better Angels
Oglaf – An Abusive Muse – Warning NSWF!!