Podcast: Play in new window | Download
Subscribe: RSS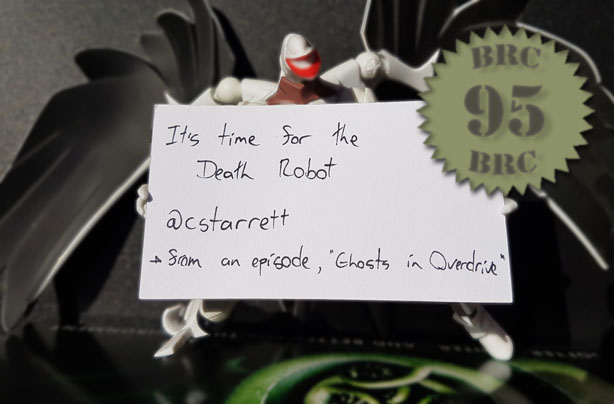 Due to dwindling pool of traditional recruits, the job of reaping souls is given to mechanical replicas.  Results are…    ….mixed.
A relic of the before-fore times, a metal Goliath hunts those trapped in its deadly arena.  Is it a scourge to flee or the biggest score of a lifetime?
An aging mad scientist and a grizzled hero face each other for what seems like the millionth occasion.  Is it time for a truce…   …or the DEATH ROBOT once more.
The tireless machines re-terraforming the battered Old Earth are a daily hazard to those humans that remain.  Worse yet, they are smart enough they starting to get bored.

A rather fascinating BuzzFeed article  (~I know! T. Jones) about the coming wave of "Lethal Autonomous Weapons".
Doomba – version 1.0 was knife enabled
PodCast – Monkey's Took My JetPack
Funkadelic Frankenstein on the Mean Streets of Monstertown 
Film – Big Hero Six
TV – Futurama's  Deadly Santa-bot
TV – Reaper
TV – Dead Like Me
Judge Death from 2000 AD
Episode Eighty Nine – The Rampant A.I. Was Surprisingly Helpful
Episode Eighty Eight – Our Listener, International Human of Mystery
Episode Fifty Four – Is There A Market For Soylent Bubba?
Film – Running Man
Film – Mad Max Beyond Thunderdome (1985)
TV – American Gladiators (1989–1997)
Escape or Die! – Podcast recording of a playtest, nearly a decade ago.
RPG – Zombie Cinema
Video Game – Wasted  ~ It's actually Syndicate of BuzzKills, but "Sanctimonious Order of X" seems to covers both them and the Brotherhood of Steel from the FallOut franchise pretty well.
Film – The Hunger Games (2012)
Film – Battle Royale (2000)
Film – Megamind (2010)
Film – WALL·E (2008)
Comics – Metalzoic from 2000 AD
RPG – Deadlands
RPG – Reign